Rose & Brown's Story...

Rose & Brown started off as a dream. In 2006 I had a vision of a divine little boutique - stocking beautiful original vintage fashion and homewares alongside art and handmade pieces by local artists and makers. Somewhere beguiling, enchanting, inspiring that fed my passion for finding intriguing one-off pieces that held the mysterious charm of unknown histories, or that were the creations of talented, driven individuals; the result of their fascinating imaginations. Three shops have now come and gone, but the dream continues in a different guise. First, back to the beginning....

Chapter 1
Thanks to winning a finalists' place on an initiative called Enterprise Island, finding an empty shop in Saltaire with a daring and supportive landlord and my experience running the 'Contemporary Gallery' in East Sussex in previous years, The House of Rose & Brown was born in April 2007. It started off as a two-week temporary 'tenancy', with myself and a dozen other Enterprise Island finalists, showcasing our creative work and selling genuine vintage fashion and homewares. A 'pop-up' shop before the phrase had become so familiar, the 'divine little shop' immediately grabbed people's imagination and attention. Two-weeks soon became three months, and suddenly I was handing my notice in at my day job, installing 'The House of Rose & Brown' sign above the shop and officially becoming a shopkeeper.

We became known for being a shop where you could rummage for mad or lovely little old vintage treasures, or you could delight in genuine vintage fashion, including Art Deco velvet capes, 1950's satin prom dresses, bright 60's jewellery and over the top 70's maxi dresses. Over the years we stocked paintings, photography, printmaking, textiles, jewellery and ceramics from talented local artists and makers.

Saltaire Vintage Fairs
I decided to bring a big vintage buzz to the World Heritage village of Saltaire, and organised the first Saltaire Vintage Home & Fashion Fair in December 2007 at the glorious Victoria Hall, just opposite the shop. With a reputation for quality and diversity, the Fairs have grown to become large events with over 40 stalls, happening 5 or 6 times a year and with regular stallholders and fresh vintage dealers travelling from far and wide to take part. The Fairs have a loyal following of vintage fans, who stay for hours and appreciate the genuine vintage fashion, jewellery, small furniture, collectables and homewares, from the 1920's to the 1980's. We were the first events in the area to offer vintage homewares alongside the fashion, and it does bring a joyous mix of stock to the Fairs.

Further afield and nice collaborations
Over the next few years we set up more events, venturing to Huddersfield, Todmorden, Skipton, Bradford and to Whitby for our Great Seaside Vintage Fair, which grows in popularity each year. We also organised vintage Fashion Shows in Saltaire, which went down a storm. People seemed to love their combination of 100 genuine vintage outfits modelled on the catwalk by locals, customers and supporters, a thrilling, carefully planned soundtrack of familiar and not-so-familiar songs, Rose & Brown cocktails and 10 vintage stalls. Rose & Brown have worked with and collaborated with many different organisations over the years - amongst them The National Media Museum, and Impressions Gallery in Bradford, Bradford Playhouse, Byram Arcade in Huddersfield, Bradford Council and Leeds Council, and somehow we were asked to organise the Saltaire Ball, and with a great team we created the 'Silver Ball', part of the opening festivities of Saltaire Festival in 2011.


Chapter 2
The House of Rose & Brown evolved over the years, as we stayed on our toes to keep afloat during the recession. Different artists and vintage sellers came and went, and although we came close to closing the shop in 2010, we found a way to keep going, by bringing together a team of like-minded dealers to share parts of the shop.

During this time, my own love and interest in vintage furniture, from mid Century to industrial, from Art Deco to rustic had been truly blossoming. Always a latent passion, tied in with my BA(Hons) Interior Design degree and obsession with time-worn architecture and interiors, there had never been enough space in the House of Rose & Brown to indulge this passion.

A new team mate and a new shop
When husband Julian came on board in late 2010, to help run the events side and cover the shop whilst I was re-stocking, his involvement represented an opportunity to expand our little empire - and in April 2011 we found a lovely empty shop in Shipley. It was large enough to accommodate big pieces of furniture, it needed a complete re-paint (by Julian) and it wasn't in an ideal location, but it was a joy to launch Rose & Brown Vintage Home. I sourced kitchenettes and sofas, sideboards, huge kitchen tables, domed treasure chests, walnut wardrobes and so much more. The quirkier the better - from hymn boards to wooden filing cabinets, rocking horses and vintage radios. When the opportunity came up to re-locate to 2 Victoria Road in Saltaire, just down the road from The House of Rose & Brown, we jumped at the chance in January 2012. The rent was high but the location was prime - right opposite Salt's Mill. It was surely worth a try?

The stock we sold here ranged from taxidermy badgers to original 1960's full-size Batman & Robin cardboard figures, and red leatherette Art Deco armchairs to industrial pigeon holes. We had a fabulous core of customers who understood our brand of 'discerning, eclectic and eccentric' and it was a beautiful shop space within a supportive community. It was my dream, come to life once more.

Au revoir, The House of Rose & Brown
At the end of 2012 we took the hard decision to leave behind The House of Rose & Brown, our original shop at 16 Victoria Road. It would mean that we could concentrate on the Vintage Home shop, on sourcing and selling furniture and homewares, and on maintaining the standard of our Events. We were pleased to be able to hand over the shop to Amanda from Horsley and Henderson, who ran it as a vintage shop for a year, and who consequently handed it over to Saltaire Vintage Shop. They are keeping the vintage flame burning with their own crew of vintage dealers.

Farewell Victoria Road
More difficult decisions had to be made a few months into 2013 - although we had plenty of customers for our vintage finds at Rose & Brown Vintage Home, we couldn't make enough money from the sales. It had always been our principle to sell our stock at prices that people could afford, especially during the difficult economic times. It reached the stage where we were no longer able to cover our rent, and painful discussions between Julian and I, led us to the conclusion that we needed to close our shop. All of the passion that we had for our vintage stock, and for serving our customers, were not covering our expenses, and in the real world, this is the crunch point to any business. So the doors of Rose & Brown Vintage Home closed at the end of April 2013, and with tears in our eyes we left Victoria Road, where I had been a shopkeeper for 6 years.

Chapter 3
But I had been lucky enough to achieve my dream, and I am very grateful that I have a nature which relishes change, a head that is always buzzing with new ideas, and a husband that is a great team mate too! We've been busy working together to make all of our existing events successful - with one of the crowning glories being this year's Great Seaside Vintage Fair at Whitby Pavilion, where we had even more visitors than last year, thanks to going into marketing and promotional overdrive in the months leading up to it.

We're also always devising some curious and exciting new ideas - that bring a bit of a twist and spin to our Events, and offer new ways of indulging our interests, using our experience and celebrating the one-off and the wonderful so who knows what strange path awaits us and our customers. Keep your eyes peeled for WHAT HAPPENED NEXT...

xx Caroline Brown (once) shopkeeper, artist and vintage doyenne...




In my earlier days, when I was a practicing artist, I was founder of the conTEMPORARY gallery, which staged marvellous temporary exhibitions in vacant commercial spaces in Brighton & London, as well as Director, Chair and co-founder of Chalk Gallery a small but successful co-operative run gallery in Lewes, East Sussex.

Prior to that, I sampled the delights of Huddersfield University managing to get a BA(Hons) First Class in Interior Design, and also a husband..... I am pleased to say that I am back to painting and selling paintings, and it's a wonderful counterpoint to our work as event organisers..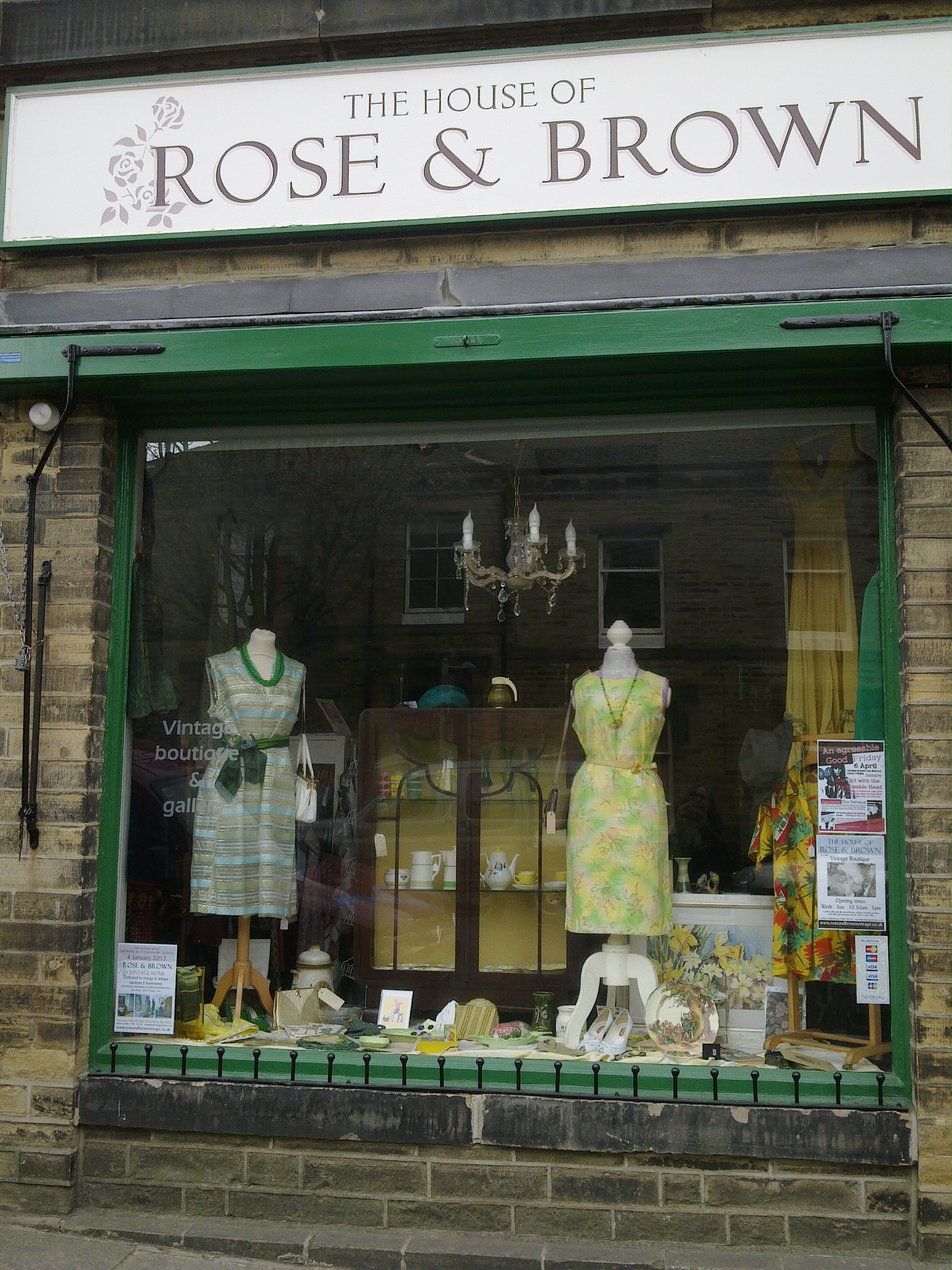 BOUTIQUE NOW CLOSED Memories...'Welcome to Springtime' window at 16 Victoria Road, Saltaire c. 2008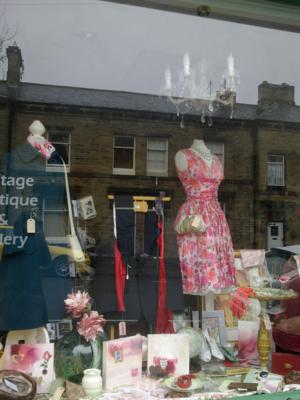 Valentine's window of The House of Rose & Brown Vintage Boutique at 16 Victoria Road c. 2009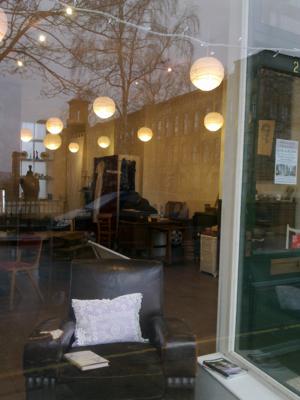 Window of our third shop, Rose & Brown Vintage Home which opened at 2 Victoria Road in Saltaire in Jan 2012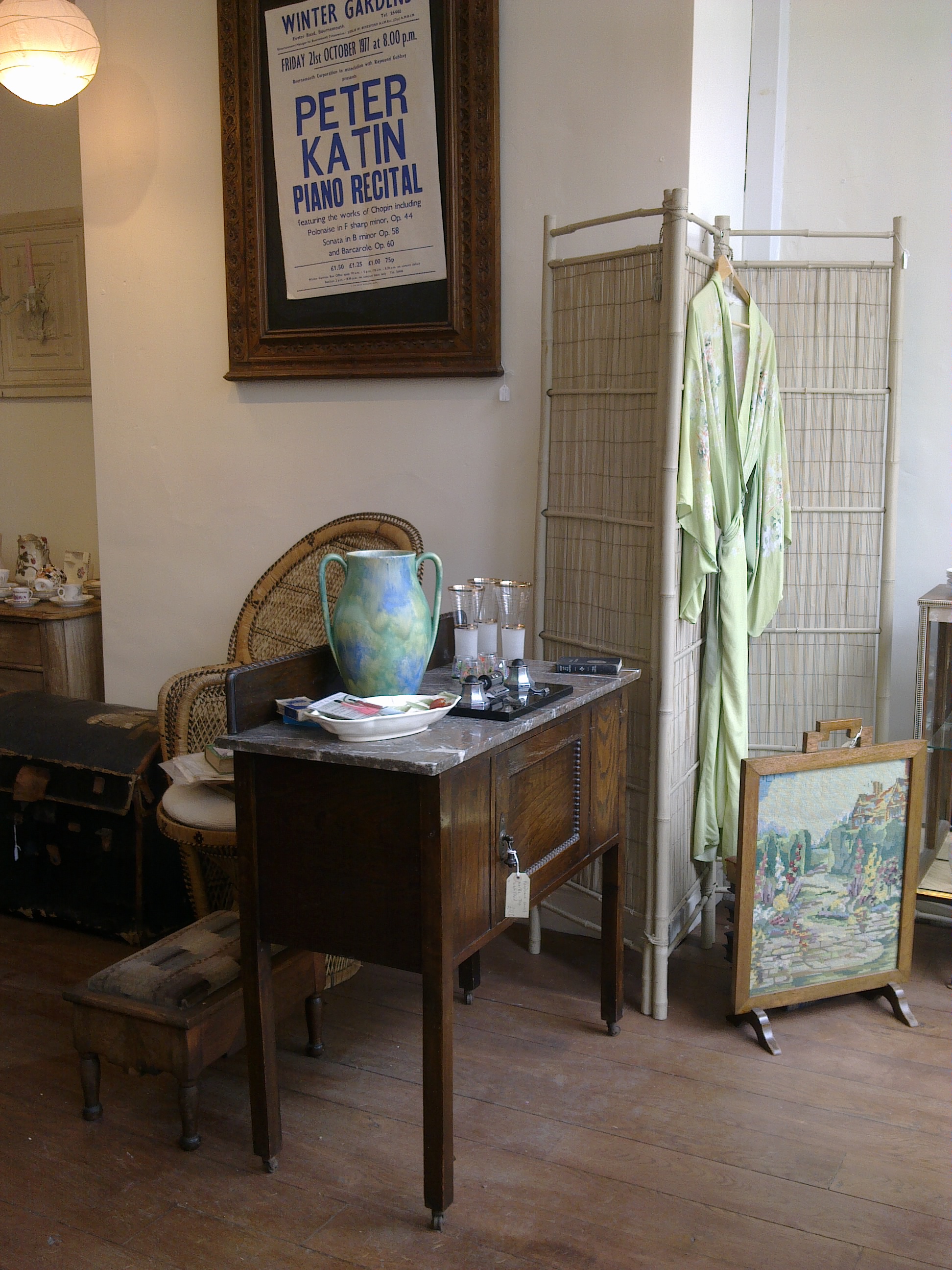 An interior shot of Rose & Brown Vintage Home at 2 Victoria Road, Saltaire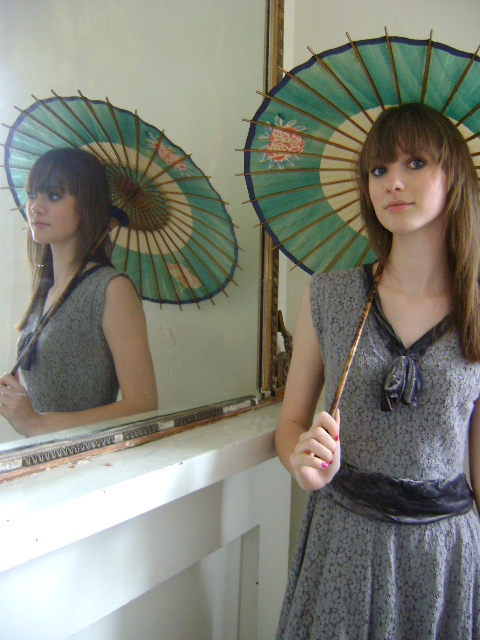 Hannah, one of our gorgeous fashion show models in glorious vintage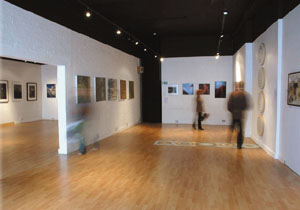 One of the ConTEMPORARY Gallery shows in Brighton c. 2005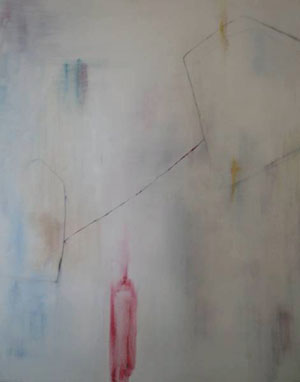 Fragile by Caroline Brown 2002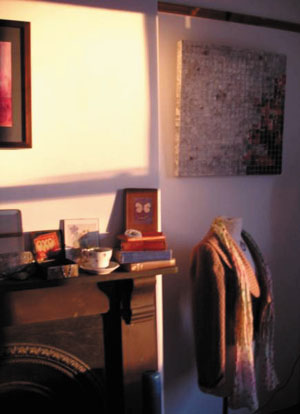 Caroline and Julian's home 2006